Home power station for electric cars
The popularity of electric vehicles (EVs) has reached incredible new heights over the past decade. 
Many of those who have already made the switch from petrol or diesel powered cars to EVs are now considering installing an electric car charging station at home, which has an array of benefits from being more environmentally friendly to saving money.
Here, we'll discuss some of the key points to consider regarding home charging stations for electric vehicles.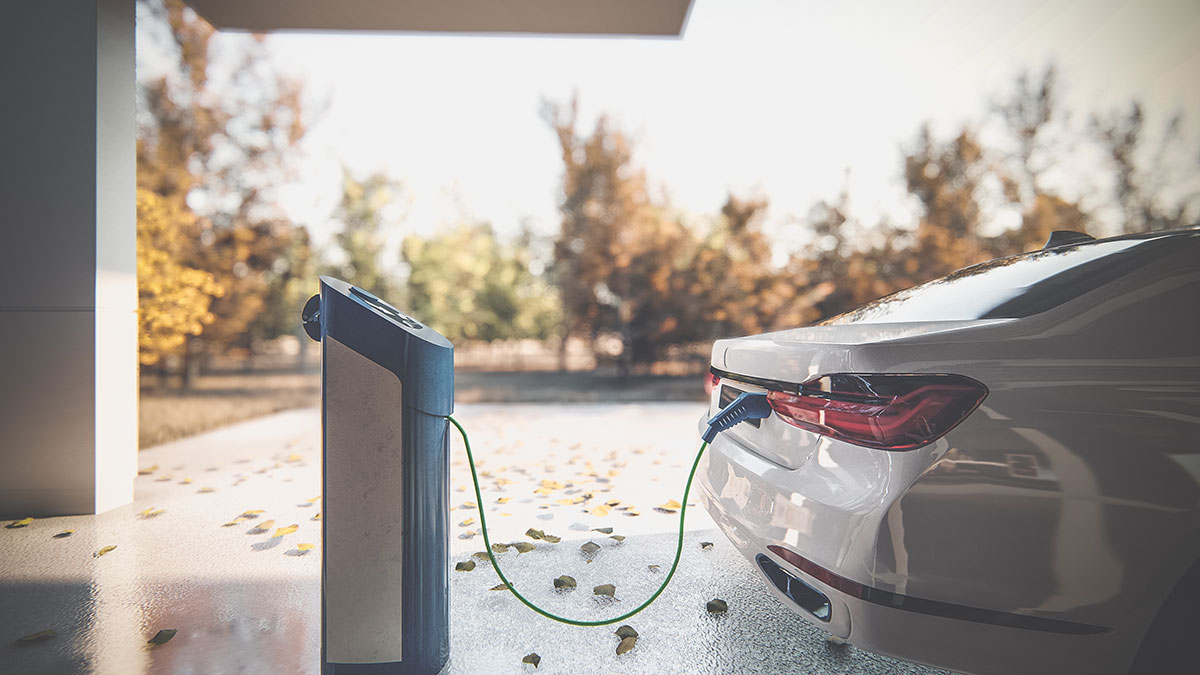 How EV Home Charging Works
Home charging stations allow you to charge your electric car while you watch TV, eat and sleep, so that it will be powered up and ready to go the next morning. 
They come in three different levels – level 1, level 2 and level 3. For residential usage, level 2 stations are the most popular as they are the best suited to home charging. 
This is because level 2 charging stations are faster than their level 1 counterparts (which plug into the wall socket), and they don't require upgrades in the same way that the quicker level 3 stations do.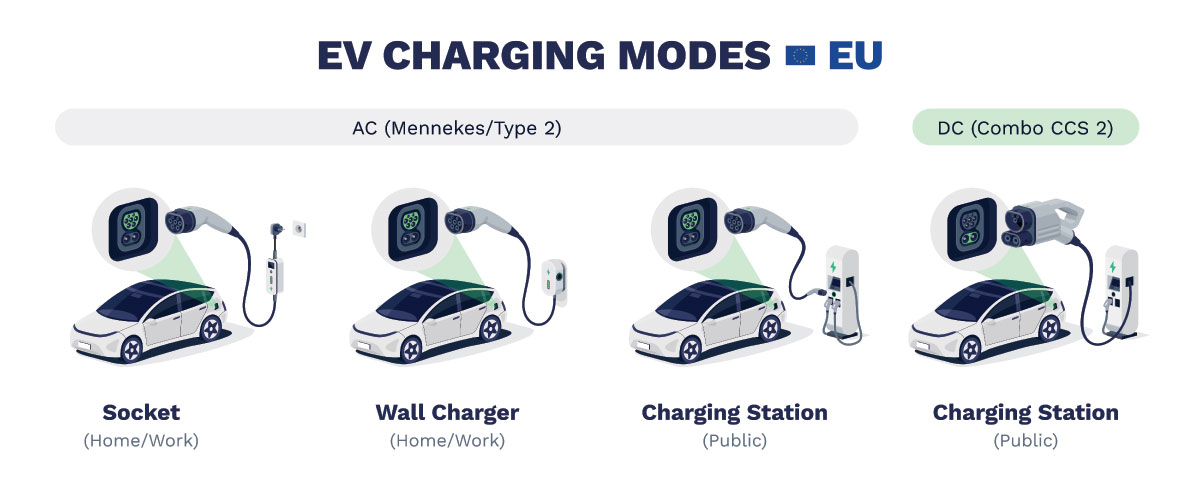 How much power can my EV charger produce?
Level 2 electric vehicle charging stations typically produce somewhere between 3.5 and 22 kW of power output. 
At maximum output, a level 2 station can power your vehicle for 120km, whereas with level 1, it's closer to 25km, based on the average consumption of 18 kWh per 100 km. 
Something to consider before moving ahead with the installation process is the amount of power your home can consume before your fuse board starts tripping. We'll discuss this in more detail later.
Benefits of Home EV Power Stations
Cheaper Electricity
Powering your electric car with electricity from the grid or through your solar panel system is cost-effective, and can be much cheaper than buying your electricity from a third party, which costs on average around €10 to fully charge an EV.
Smart charging
Home EV charging features like a remote control allows you to power up your electric vehicle with the click of a button, and gives you more control over when to charge your EV, and for how long.
Sustainable
Solar photovoltaic (PV) panels are a great way of harnessing the limitless energy from the sun, and you can utilise this renewable electricity source to power your EV with a home charging system.  
Convenient
To describe a home charging system for electric cars as 'handy' would be an understatement, with no more inconvenient detours on your way home to a charging station when you're running low.
Durable
Home power stations are designed to withstand all weather conditions, meaning you don't need to worry about them being damaged during the harsh winter months.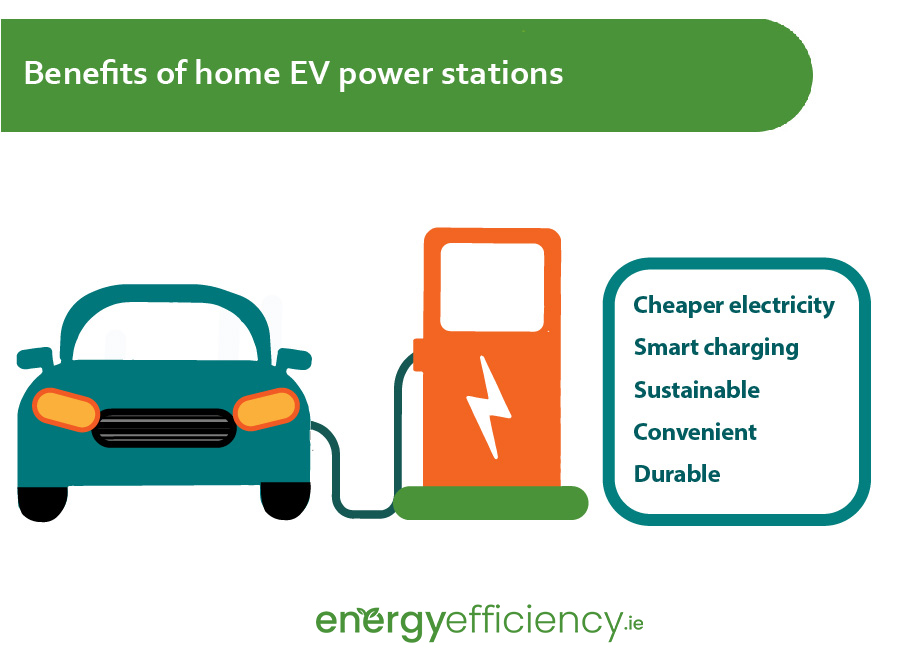 The Cost of Electric Car Home Power Stations in Ireland
The cost will vary depending on power output, size and model, but can expect to pay somewhere between €650 and €1,500 for a home EV charging station in Ireland.
A government grant of up to €600 through the SEAI can greatly reduce the costs associated with a home charging station.
You can use one-phase or three-phase power to install your station, with three-phase having a max power output around three times higher – up to 22kW. The main differences between the two are the number of conductors they use to transfer power – and of course, their cost.
Although phase-three will allow you to charge more quickly, they can be more difficult to install and are more expensive.
How much does it cost to charge an electric car?
The cost of charging your electric car at home will be significantly cheaper than using a public charging point.
But again, this will vary greatly depending on how much electricity is being used with each session and how often you need to charge your vehicle.
With a day/night meter, at 22.8c per kWh, you could travel 1,000 kilometres for around €600. 
With solar power, the amount you would spend to charge your electric vehicle would be even less, as with a photovoltaic (PV) solar system installed, a proportion of your electricity will be free.
This is also doubly environmentally friendly, as with an electric vehicle and solar power your carbon footprint will be much lower than the average person's.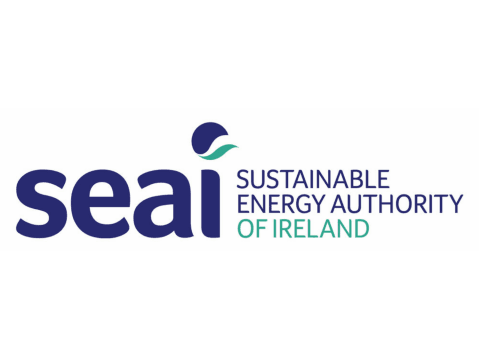 SEAI Electric Car Charging Grant
The Sustainable Energy Authority of Ireland's grant of up to a total of €600 towards the installation costs and the charger is open to everyone, even those who don't own an electric vehicle. The charge points can also be used by visitors or at rented properties.
The scheme provides a grant up to the value of €600 towards the purchase and installation of a home charger unit. To receive the payment, you must use a Safe Electric Registered Electrical Contractor.
To be eligible, the SEAI requires that your electric vehicle is parked at the home (off-street) and that the charger is connected to the back of the home.
Properties which were previously associated with an EV home charger payment are not eligible. Neither are those which have availed of the free ESB Ecars home charger pre-2018.
Applications will also be ineligible if any work begins before the start date on the Letter of Offer.
Demand Management Devices for EVs in Ireland
With ESB Networks' standard domestic connection of 12kVa, the amount of power that your home can supply is limited. This is something to consider when thinking about installing a home charger, as you might require an additional Demand Management device. 
For example, if your modern power shower, the oven, the kettle and immersion hot water heater were all going at the same time, your home would be consuming much more power than it could deal with, and your main fuse would trip, and some of the appliances would need to be switched off to restart the power.
Adding a home charging device for an electric car to this would exasperate this issue if, for instance, you had a power shower running at the same time. 
A Device Management device, such as a priority switch, is a simple solution to this problem, as they ensure that only one of the loads is able to run at one time.
EV Power Station Providers in Ireland
ChargePoint

EO

EVBox

JuiceBox

Myenergi

OHME

Wallbox
Get a Quote for your Home EV Power Station Today
Get a FREE quote for a home charging power station today and join thousands who have cut slashed their bills while making a positive contribution to the planet.