There has been a massive surge in the number of people having domestic solar PV installed on their homes in Ireland in recent months, with a number of factors driving that surge.
While figures aren't available for everyone who has had solar panels installed on their homes, what we do have is the number of solar PV installations carried out with the assistance of SEAI grants.
SEAI data provided to EnergyEfficiency.ie shows that there was a 255% increase in the number of grant aided domestic solar PV installations carried out in the Q1 of 2023 compared with the same period in the previous year.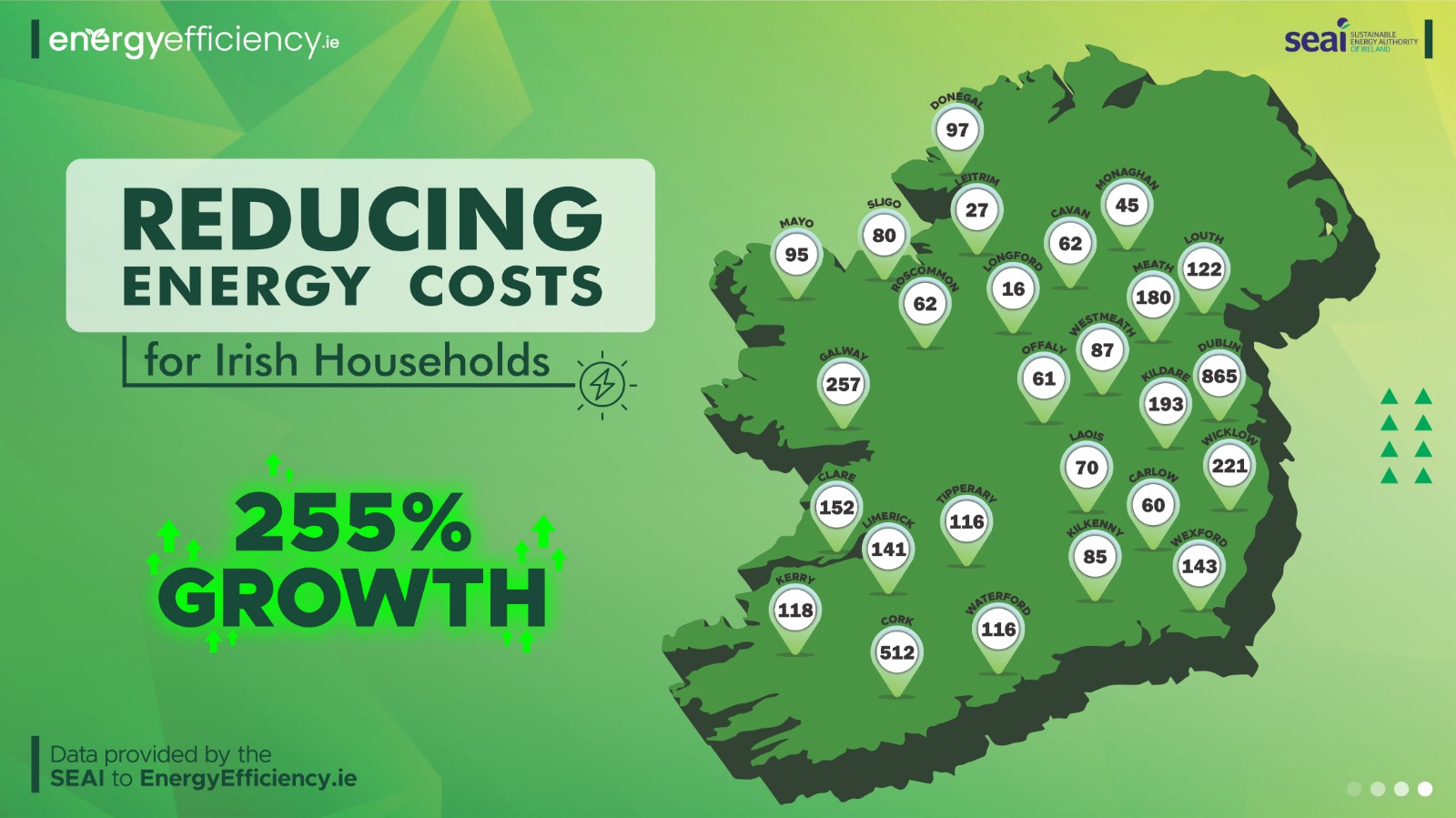 A total of 3,985 solar PV property upgrades were carried out nationwide in the first three months of this year, compared with 1,122 over the same period in 2022. However, there has been a far greater uptake of solar PV in some counties and regions than in others. 
At a provincial level Leinster had the highest number of home solar installations, with 2,102 homes getting solar panels fitted in Q1 2023, an increase of 250% on last year.
The largest growth year-on-year was in Ulster, where 204 homes had solar panels installed, a staggering jump of 397% compared with 41 homes in the same period last year.
Munster saw a 273% increase in grant-aided home solar this year, with 1,155 homes getting panels fitted, and Connacht recorded a 205% jump to 521 solar PV installations in Q1 2023. 
Dublin was the county with the most grant supported domestic solar installations in Q1 2023, with 865 homes having solar PV panels installed. Cork followed Dublin with 512 solar installations from January to March, and Galway saw the third most in the country with 257.
The lowest number of homeowners installing solar panels with the assistance of SEAI grants so far this year has been in Longford (16), Leitrim (27), and Monaghan (45). But even there the numbers for the first three months of 2023 are up from just 10 in each county in the same period of 2022.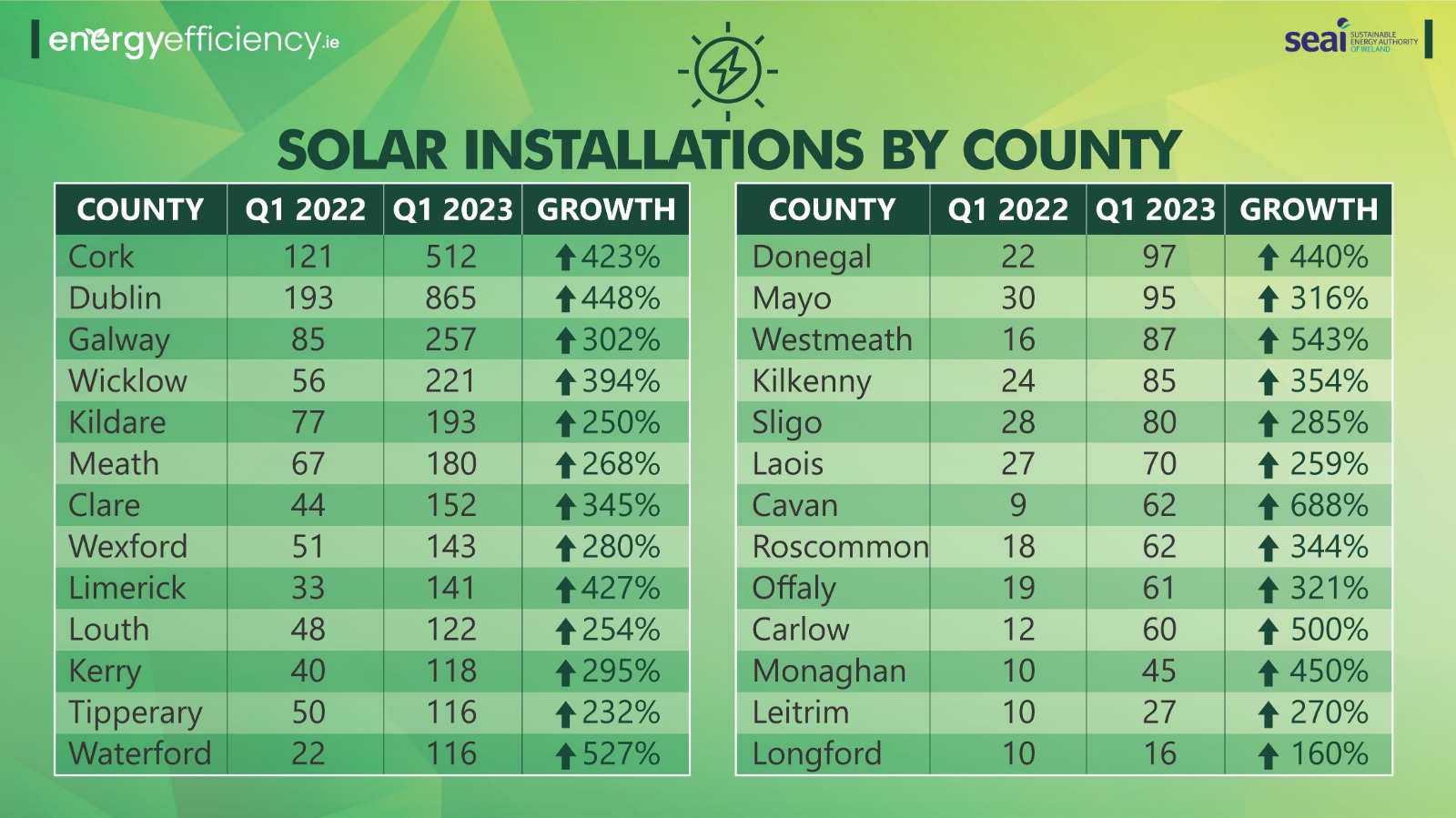 Growing Interest in Solar PV
The single largest factor driving people to have solar panels installed has likely been the massive spike in electricity prices in recent years, which are remaining stubbornly high, and are unlikely to come back down close to previous levels anytime soon.
Since the invasion of Ukraine, many households in Ireland have seen their electricity bills double. Even if prices were to begin to fall again, these events have just highlighted how much homeowners and businesses are hostages to factors outside of their control if relying on electricity from the grid.
Using solar panels to achieve energy independence through renewable electricity makes financial sense, as they can pay themselves off in as little as seven years. After that, you can expect around two decades of further free electricity.
Solar PV Supports
The government has also made a number of policy changes in the last year which have made it easier for people to have solar panels installed on their homes.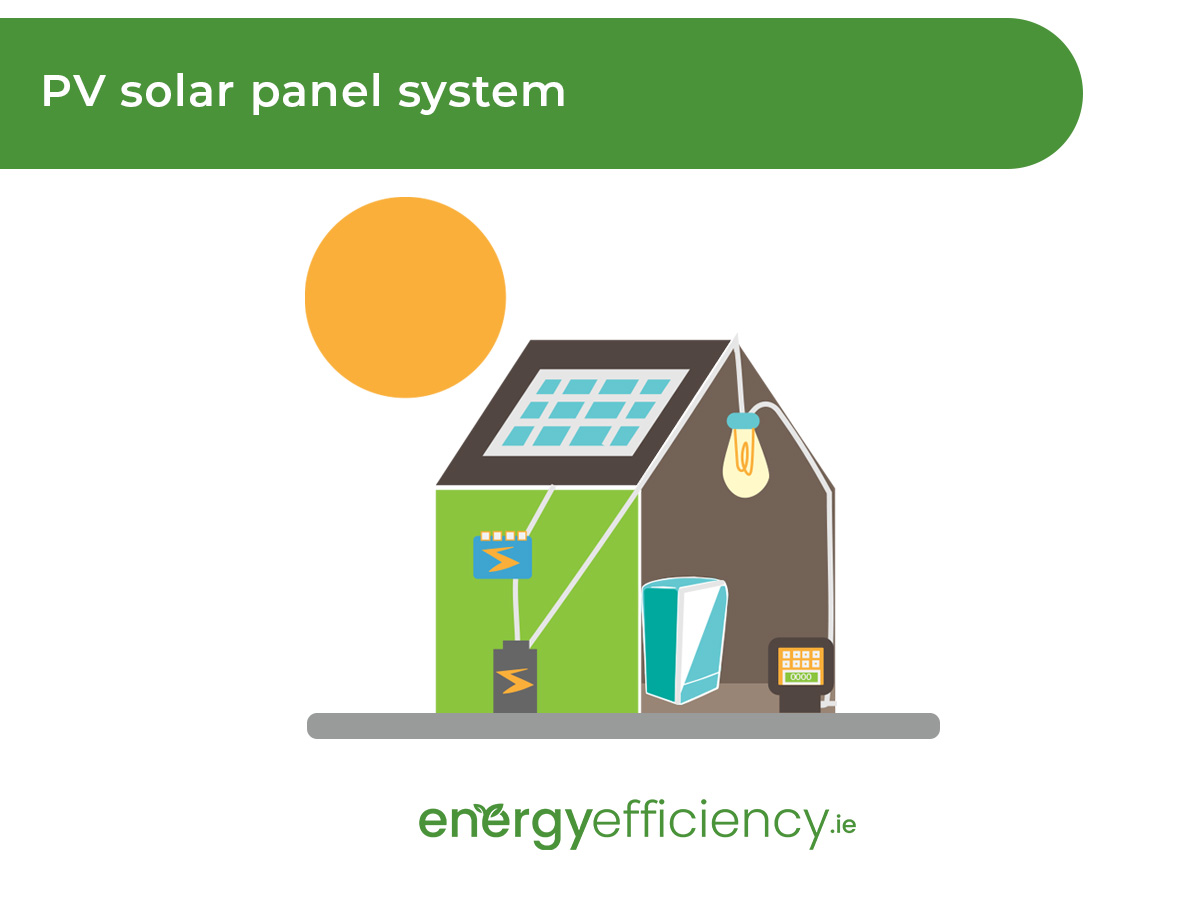 Changes to planning regulations introduced in October 2022 mean that homeowners can now install unlimited amounts of rooftop solar on houses without needing planning permission. This cuts a lot of red tape from the process, meaning that people may no longer need to wait months for a planning decision.
Businesses and most other buildings can also install as much rooftop solar as they like in the majority of locations without needing planning permission, with the only restrictions being in place in 43 solar safeguarding zones (SSZs) meant to protect aircraft from glare.
On the financial side, as of the end of May the government brought in a 0% VAT rate for the purchase and installation of domestic solar panels. For the average homeowner this could save them approximately €1,000 on the cost of having solar PV panels installed.
This is on top of the existing SEAI grants of up to €2,400 for homeowners to have solar PV installed on their house. With the role that the government has placed on micro-generation as part of the push for renewable energy in Ireland, these may not be the last changes made to make domestic solar more attractive.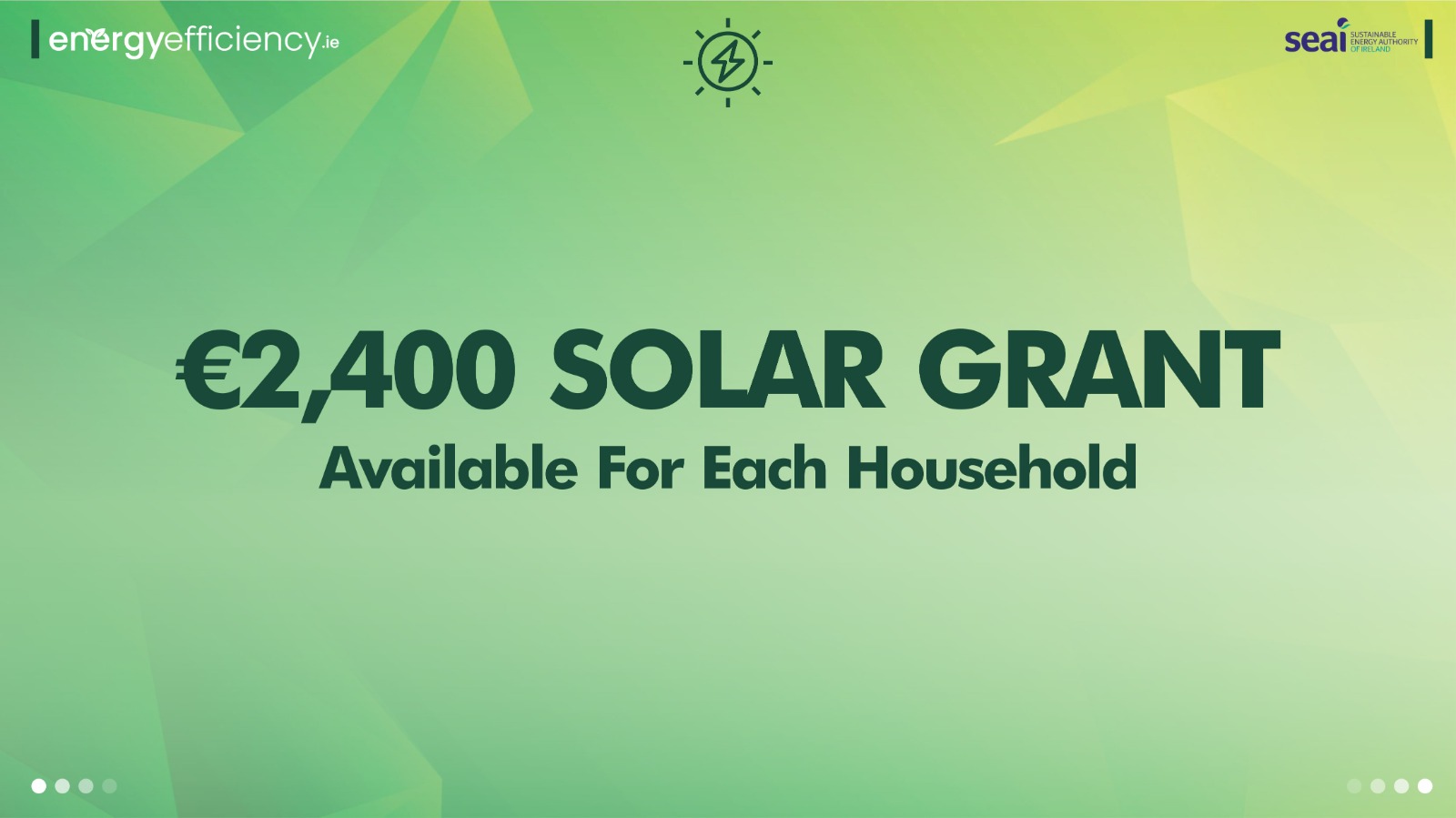 With these measures, SEAI grants, ever declining costs of solar panels and other technology in solar PV systems such as batteries, it's likely that we will continue to see homeowners moving towards micro-generation from their own solar panels in the months ahead.