If your home has solar panels, or if you're having a solar PV system installed, then a battery storage system might be an attractive extra that can help you save additional money on your electricity bills.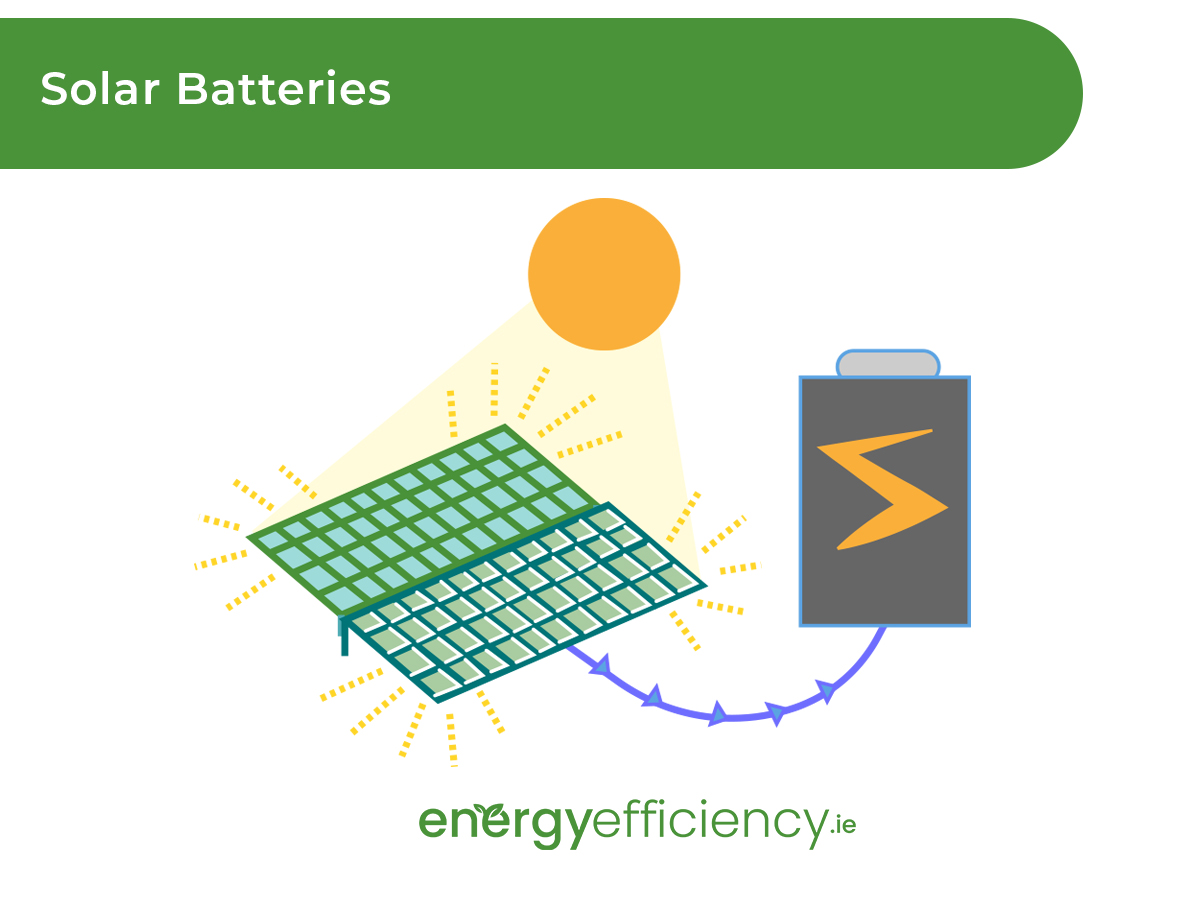 What are solar batteries

What do solar batteries do

How do solar batteries work

Benefits of solar battery
What size solar battery do you need

Factors to consider when picking a solar battery

How much does a solar battery save in energy costs
What are solar batteries?
A home energy storage battery, also referred to as solar batteries for our purposes, is a simple concept. They store excess electricity generated by solar PV panels in a battery so that it can be used at a later time.
Whether Lithium-Ion or Lead-Acid, solar storage batteries are simply systems can store a significant amount of electricity. This ensure that none of the electricity being generated by your solar PV system goes to waste.
What do solar batteries do?
During the height of the day your solar panels will likely be generating more electricity than you are using at any given moment. In a standard setup, that excess electricity will simply be pumped back into the national grid.
With a solar batteries installed as part of your solar PV system, that excess electricity is instead diverted to your battery to charge it to capacity.
At night time, when your panels are no longer generating electricity and you would otherwise be drawing from the grid, the energy in the battery is used.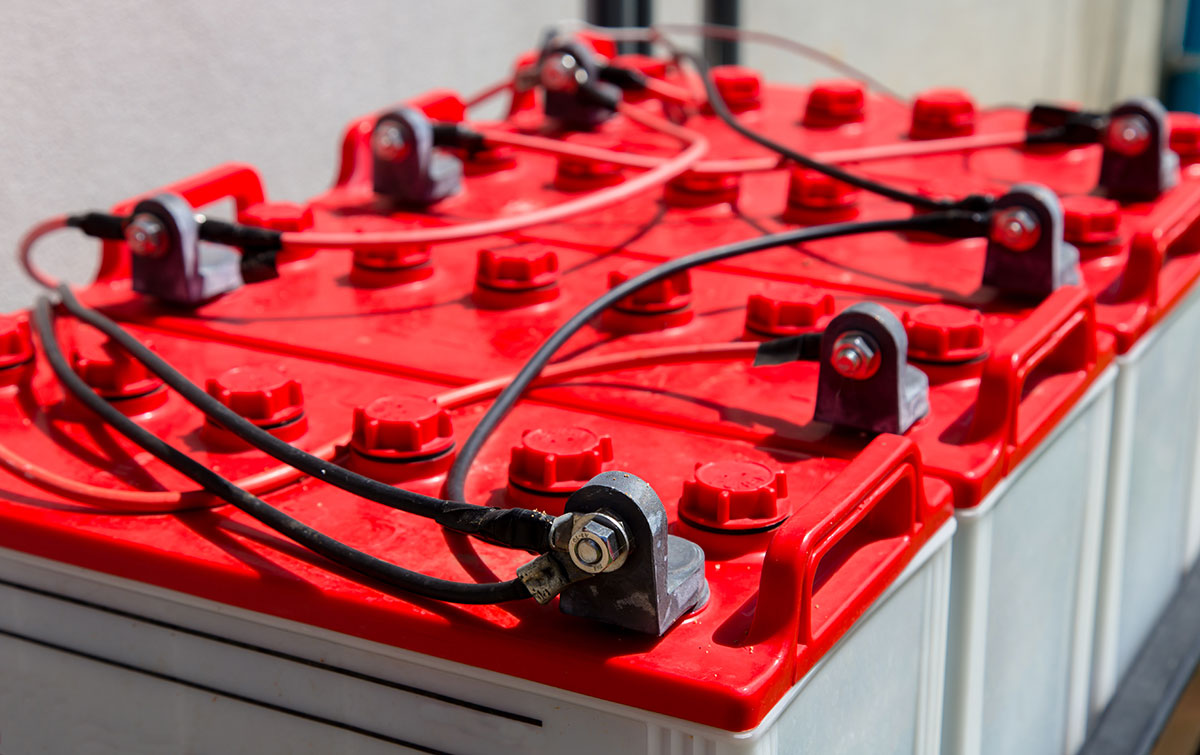 How do solar batteries work?
How specific solar batteries works depends on the type of technology which is being used in your home system.
There are two common types of battery storage systems used for home solar, Lead Acid and Lithium-Ion batteries.
Lead Acid batteries have the advantage of still being cheaper, but with technology prices falling all the time, Lithium-Ion are becoming the more common type of battery technology, as they can store more energy.
Lead-Acid Batteries
Lead-Acid batteries are a well known technology, commonly used in cars and other vehicle applications. They have a lower energy density than most other battery types. But, being a well known technology, they also tend to be cheaper.
Lithium-Ion Batteries
Lithium-Ion batteries tend to be smaller and lighter than their counterparts due to their high energy density. They also tend to have a better depth-of-discharge than their older counterparts. The newer technology also tends to make them the more expensive option, however.
Benefits of a Solar Battery
There are multiple benefits of having a solar storage battery installed with your PV system including saving you additional money on your energy bills, further reducing your carbon footprint.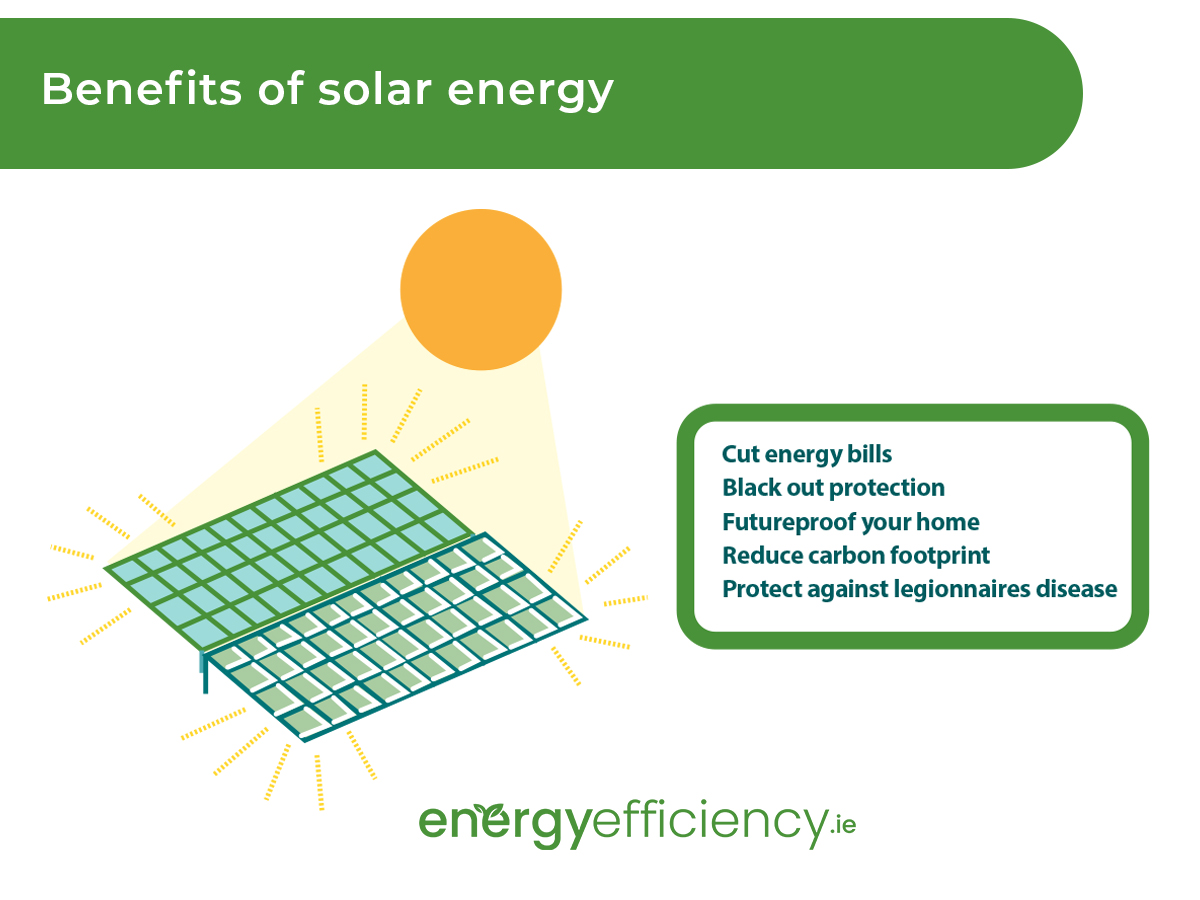 8 Years
A typical solar installation is fully paid back within 8 years. All our panels are under warranty for 25 years, so you will enjoy 17 years of free energy generation.
0% VAT
As of May 10th 2023, the government has removed all VAT on Solar installation and solar panel supply. Solar has never been more affordable. 
Government Grants
There is are a number of government grants available for all new solar installations. Our team will guide you through the application process. 
What size solar battery do I need?
The size of the solar battery which would be suitable for you depends on your electricity consumption, along with the size of your solar PV system and its output.
Ideally, you would like to have a battery system that can handle all of your evening energy consumption, when your solar panels are no longer producing energy.
The average household in Ireland used 3,177kWh of electricity in 2022, which averages out at 8.7kWh per day (Source).
Buying a battery with a storage capacity which exceeds your daily consumption would be pointless. Ideally your solar panels should be supplying most of your electricity in the day, and the battery takes over for the evening time consumption.
Things to Consider When Picking a Solar Battery System
There are multiple technical factors to take into consider when picking a solar battery beyond just its capacity. The battery material, lifespan, storage capacity, depth of discharge, and efficiency can vary greatly between brands and models.
Many of these considerations may also factor into the cost of the battery storage system.
Battery Type
As spoken about above, the choice of technology for your solar battery system, Lead-Acid or Lithium-Ion, is an important factor in its performance and cost. The newer Lithium-Ion batteries are more compact and efficient, but cost more, whereas Lead-Acid batteries are less costly, but older technology.
Depth-of-Discharge
This refers to how much of a battery's total capacity is used up before it is recharged. Having a deeper depth-of-discharge typically results in a battery with a shorter lifespan. If your battery states that it has an 80% DoD, then you should keep it above 20% capacity before recharging.
Efficiency
Solar batteries are not 100% efficient when it comes to transferring and storing the energy generated by your solar panels. The higher the efficiency of your battery, the less electricity that is lost in transition.
How much can I save with a solar battery?
The amount of money which you can save by having a solar battery installed is dependent on your electricity usage, and how much your electricity costs.
Electricity prices in Ireland have been stubbornly high for some time now, which could make it a more attractive investment to cut down on how much power you draw from the grid.
How much you save with a battery installed will depend on how you use it and your home electricity, the lifetime of the system, and how expensive a battery you choose to buy.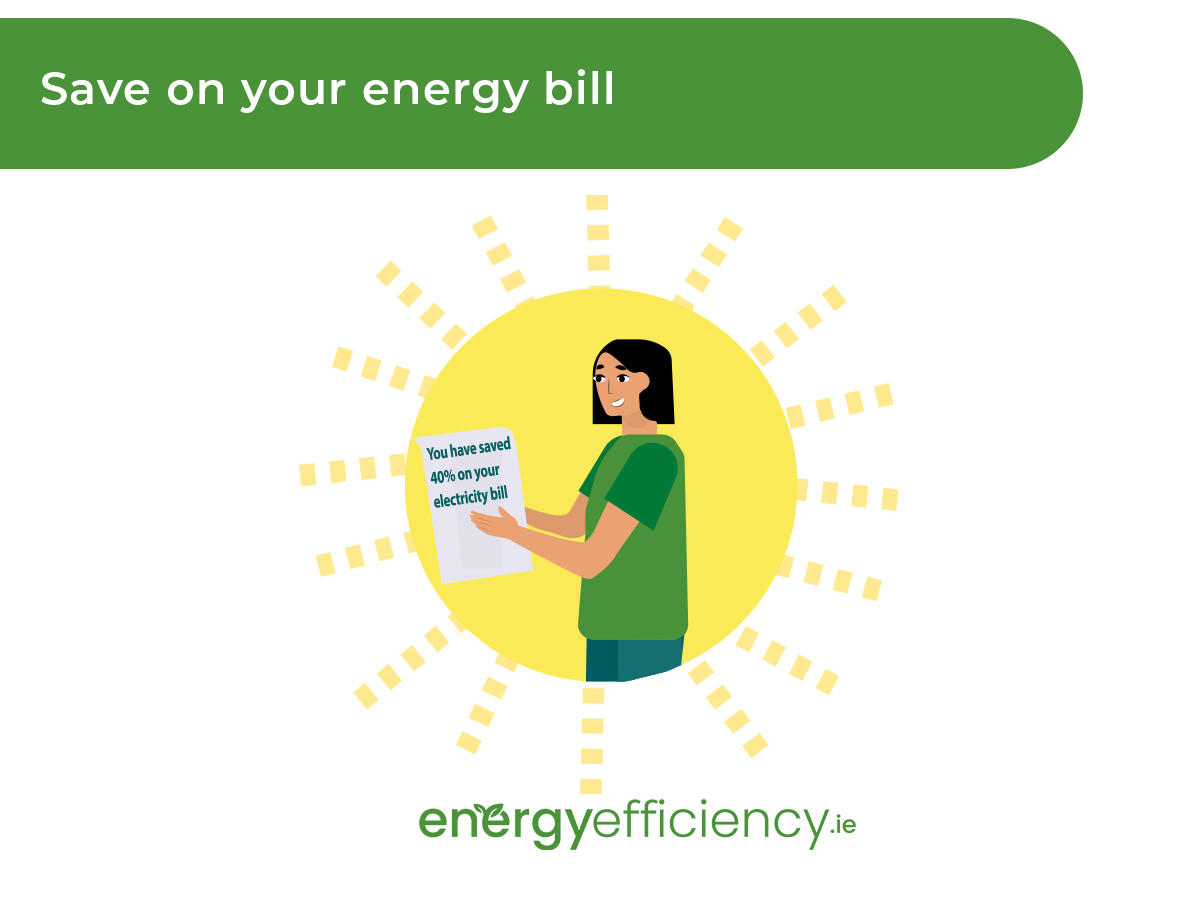 How much do solar batteries cost?
The average cost of having solar battery storage installed in your home can vary greatly depending on numerous factors.
These include the type of battery technology you go with; the size of the battery which could range anywhere from 1kW to 15kW for a home storage system, other aspects such as the battery's Depth-of-Discharge and Efficiency, as well as the installation costs.
The average cost of having a 5kW solar battery installed in your home will be approximately €4,000. But it's worth noting that this cost includes the installation process of connecting your solar battery to your home grid.
That includes getting a hybrid inverter, to connect both the solar panels and battery, which can be significantly more expensive than a string inverter.
It's worth keeping in mind that your solar battery will have to be replaced at least once in the lifetime of the solar panels on your home.
Replacing a solar battery will be far cheaper than the first installation, as things like the inverter, and electrical wiring have already been handled.
Best Solar Battery Brands
There are many companies manufacturing solar batteries of different scale and technical quality, and it's important to choose the brand and model that most closely fits your needs.
Some of the more well known brands of solar battery manufacturer include: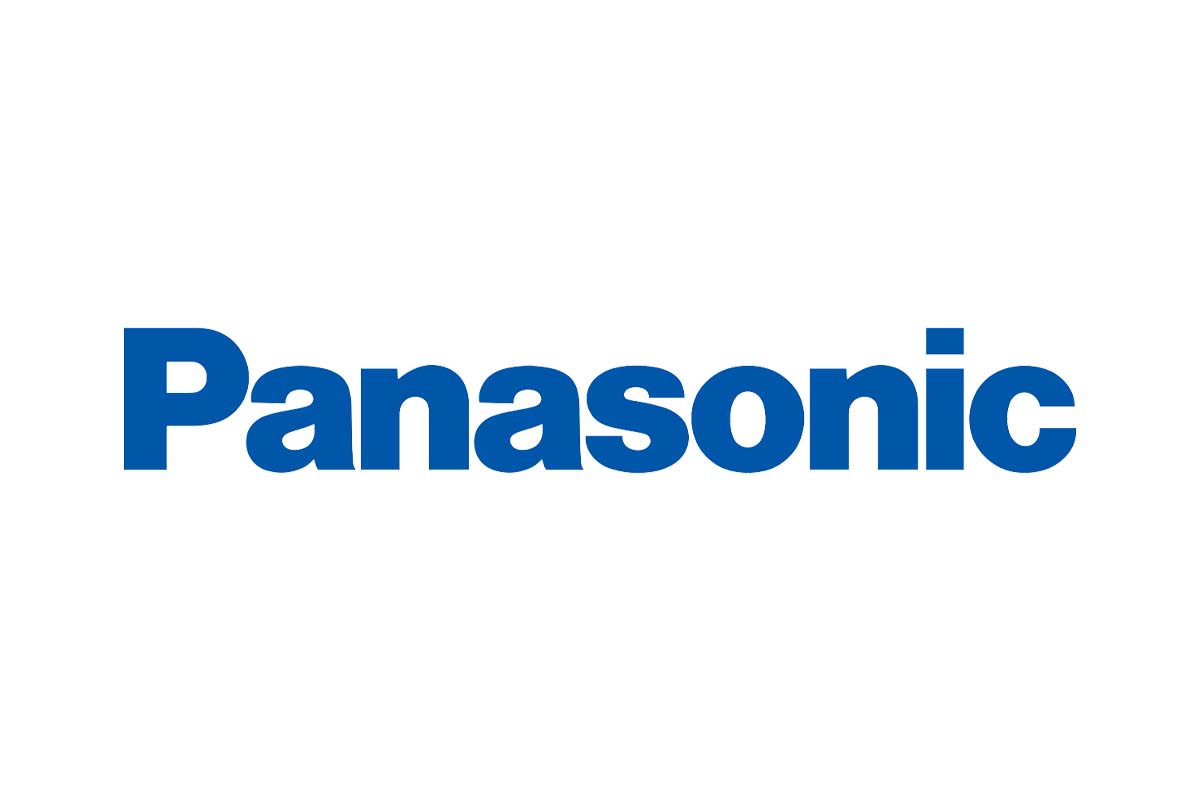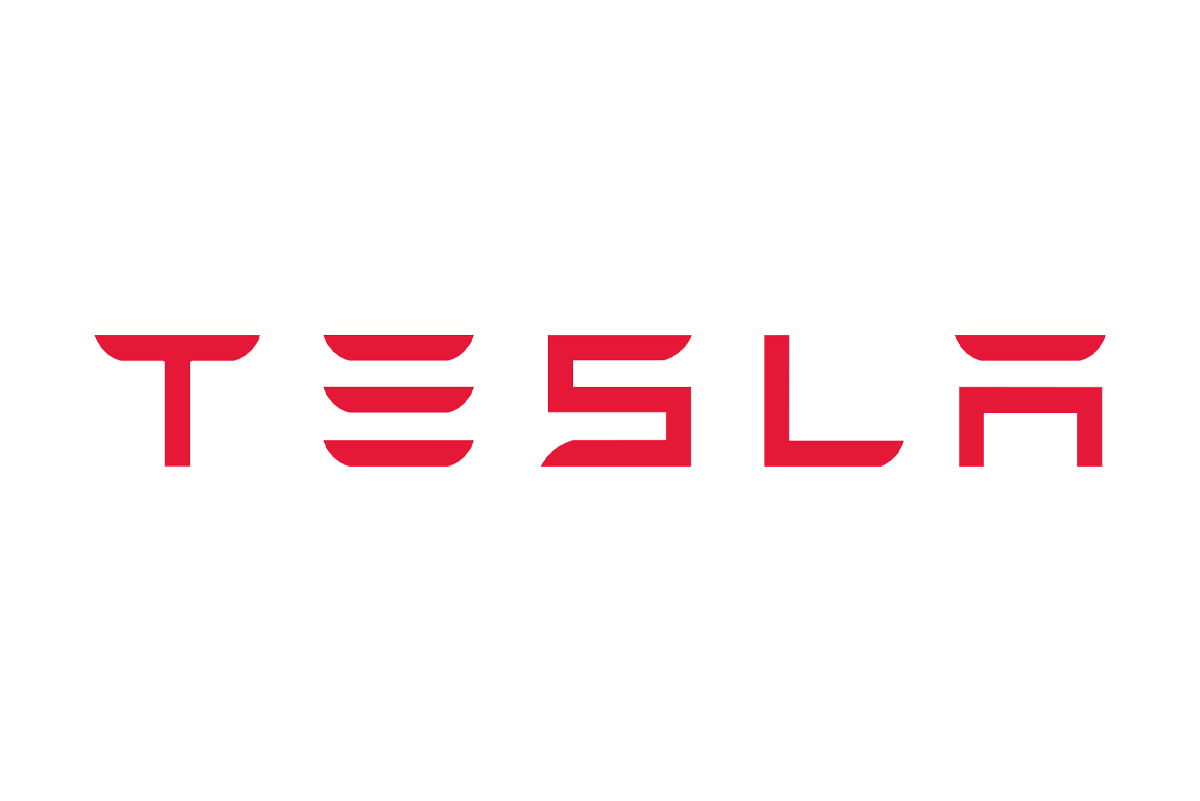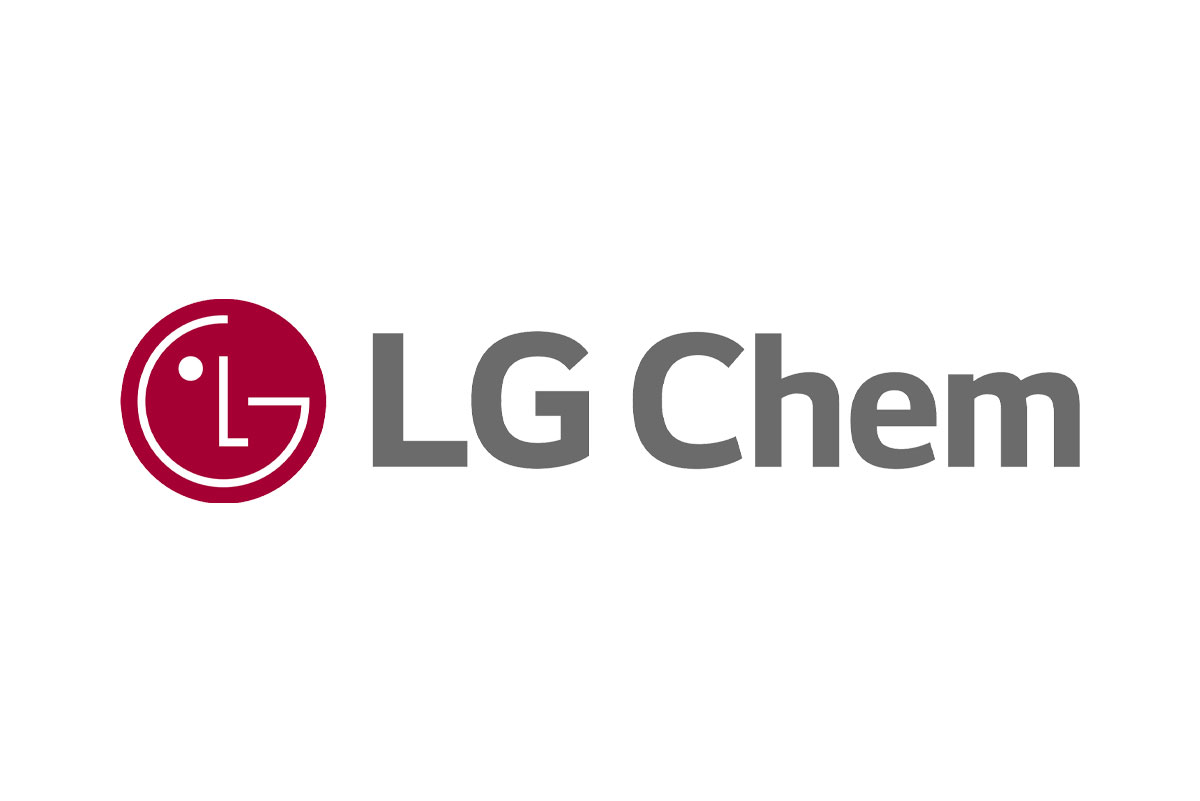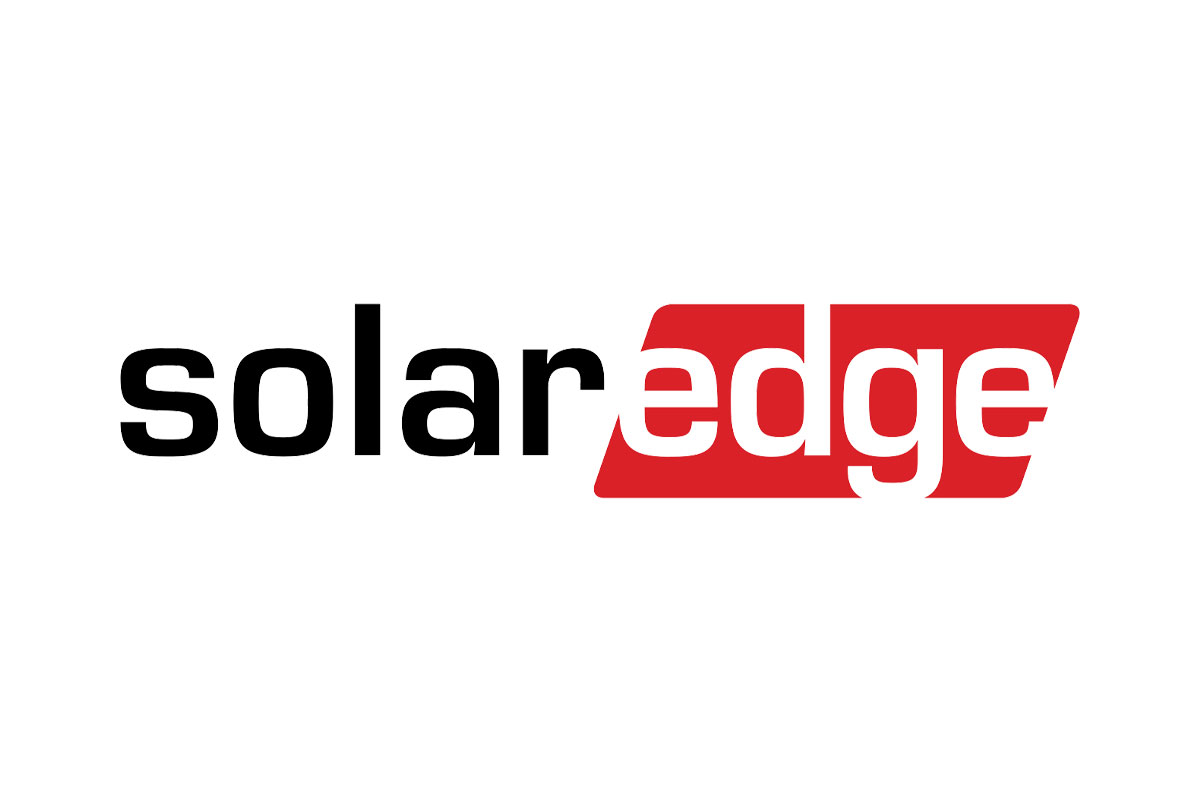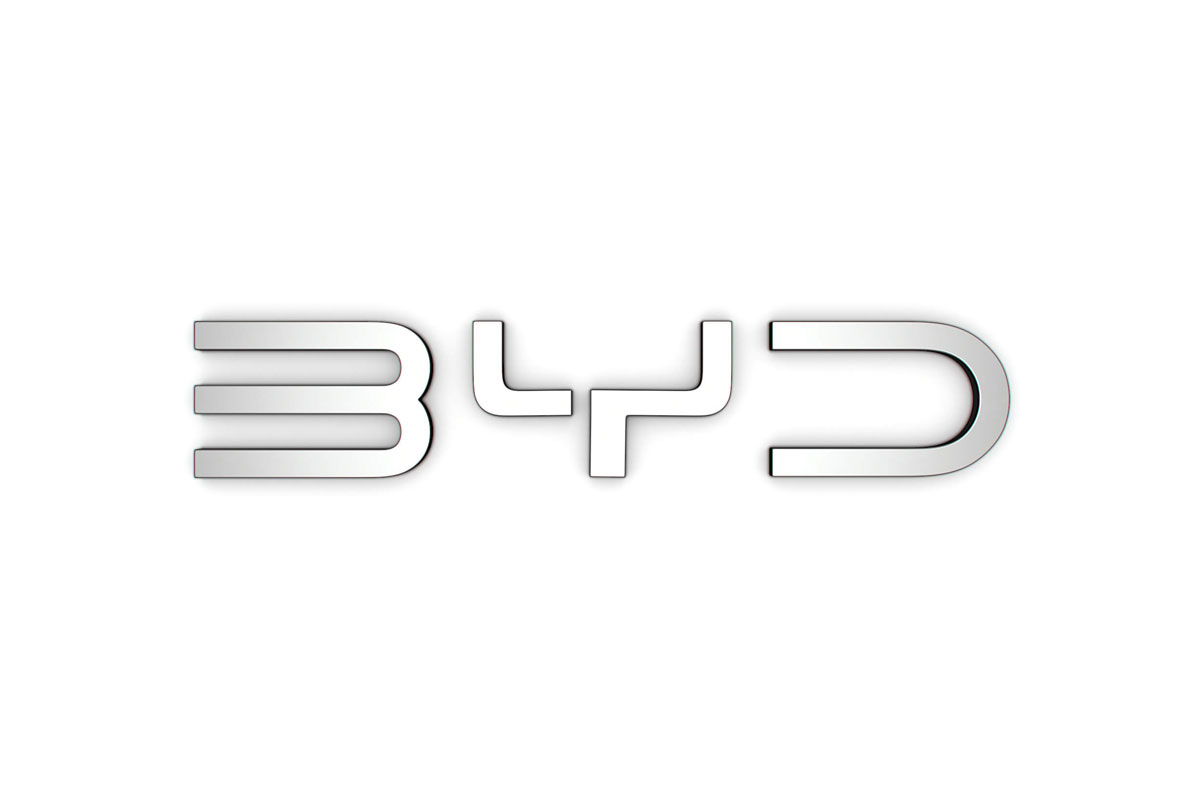 These different companies offer a wide range of products each, batteries of different sizes, with state of the art monitoring systems, AC or DC systems, and the ability to use multiple batteries in sync.
Are solar batteries worth it for you?
Whether solar batteries is right for you depends on multiple factors related to how much electricity you use around the home, the price of electricity, the cost of the system, and more.
With the cost of installing a solar battery, if your surplus electricity is being used for another purpose, it bears thinking about whether the investment is worthwhile.
If you have a power diverter installed to send your excess electricity to the immersion, that means less power which can go to the battery storage.
Selling Surplus Electricity
Since 2022, Ireland also now allows homeowners to sell electricity from solar panels back to the grid. This means that excess electricity being generated by your solar panels can either go to battery storage for later use, or you can be paid for it by your utility provider.
This can potentially help increase the return on investment of your solar PV system, and shorten the length of time before it has paid for itself.
The feed-in tariff, the rate paid for excess electricity, is set by your utility company, and is generally significantly less than what it costs you to buy electricity. So having a battery to alleviate the need to purchase electricity from the grid can be a better investment.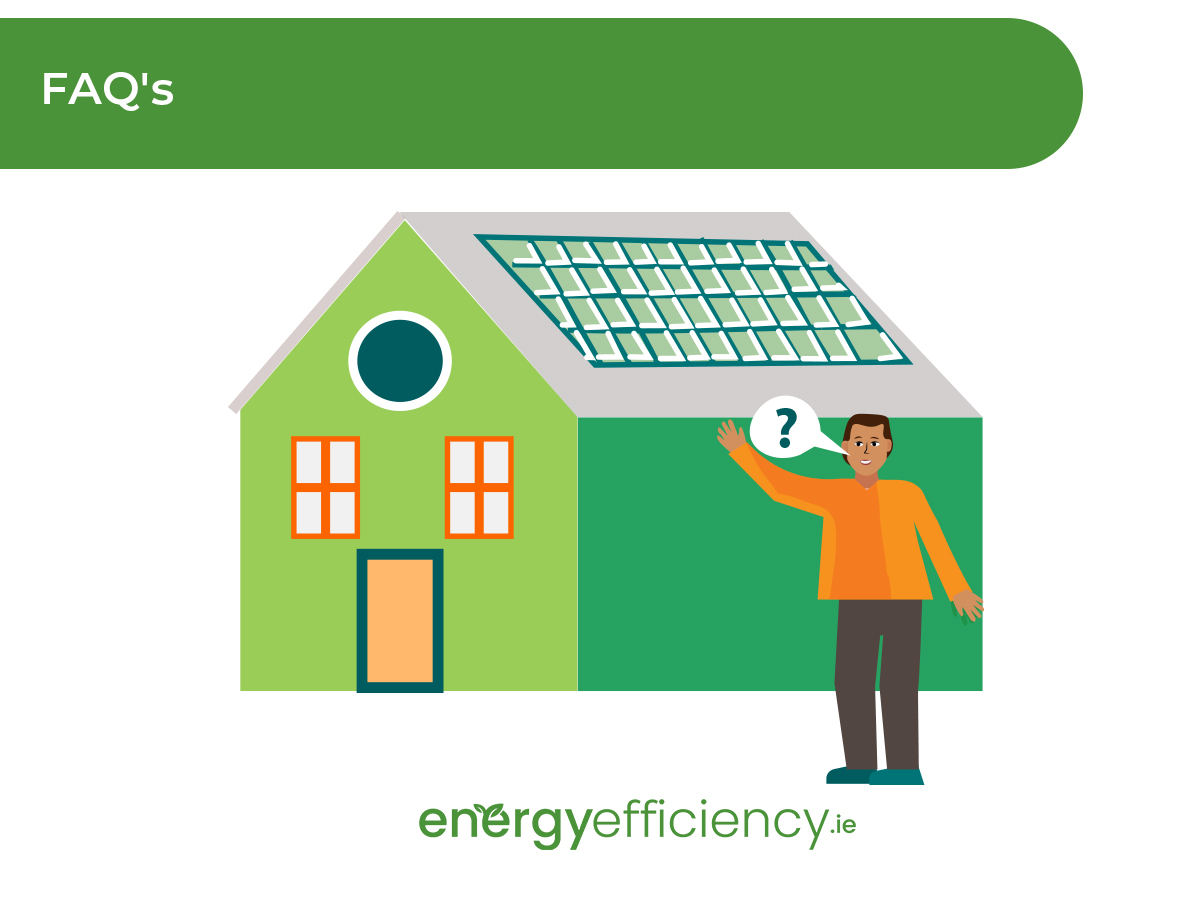 Learn More About Solar Energy Today
Take our online assessment quiz to get your best quote on solar energy today.