The cold winter months in Ireland are costly for many Irish households, with the price of heating oil and electricity causing problems for many as they try to heat their homes. 
It is well documented how solar PV panels and solar thermal panels can be used to generate free electricity and hot water for homes, but solar underfloor heating is often overlooked.
Underfloor heating powered by solar energy is extremely energy efficient and cost-effective, and can be installed almost anywhere. In this solar-powered underfloor heating guide, you'll find out all you need to know about this underrated method of heating your home.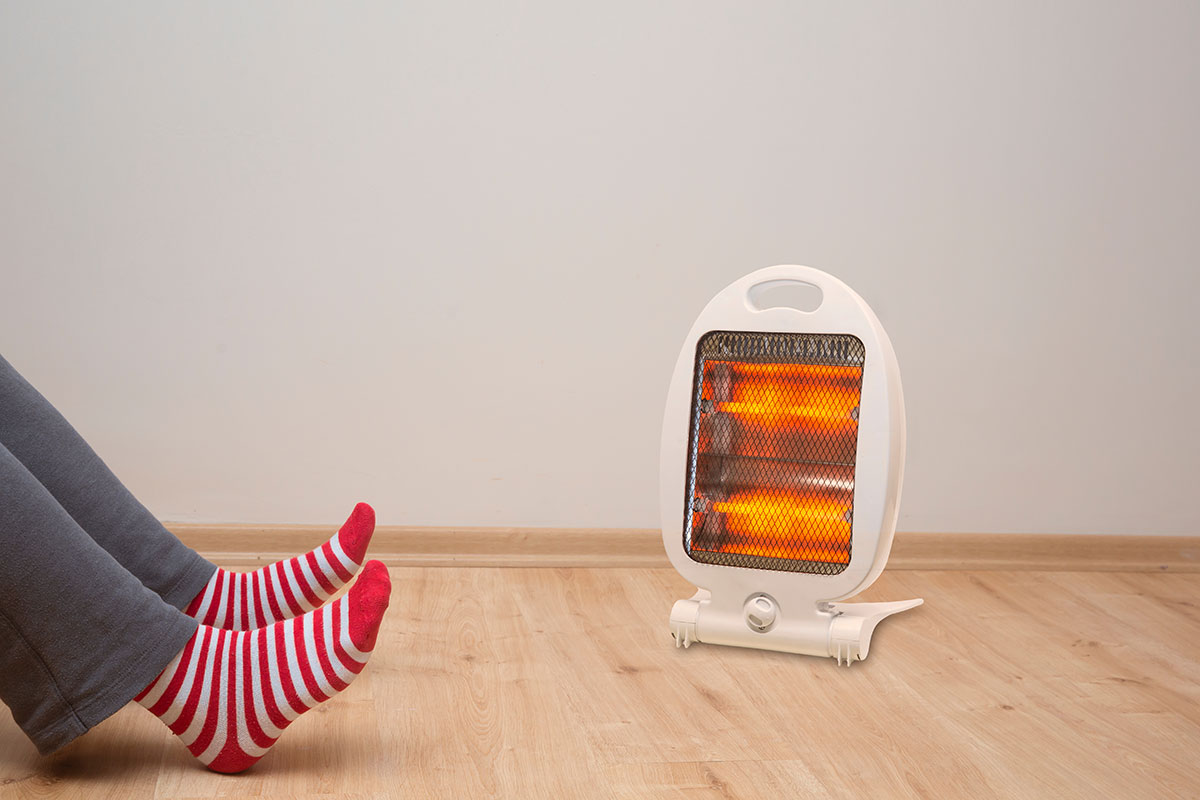 Underfloor Heating Systems
There are two main types of solar underfloor heating, namely dry underfloor heating and wet underfloor heating.
Dry Underfloor Heating
Dry underfloor heating uses electricity through wiring in heat mats placed under the floor to generate heat. These are most commonly installed during the building's construction, as it requires the removal of the floor in order for installation to take place. 
As electricity is required for this type of heating system, photovoltaic (PV) solar panels can be used as they convert sunlight into accelerating current (AC) electricity.
Wet Underfloor Heating
For wet underfloor heating systems, solar thermal panels can be used to heat water. Solar thermal panels are similar to solar PV panels in that they utilise energy from sunlight, but they don't create electricity. Instead, the energy is used to heat water, and this can be used for underfloor heating. 
Wet underfloor heating, also known as hydronic, use pipes filled with water which are located under the floor. These pipes are arranged in such a way that the floor gets an even amount of heat. This type of underfloor heating may be best suited to non-carpeted floors, but can also be used with carpeted floors if the underlay insulation is no more than 1.5 tog.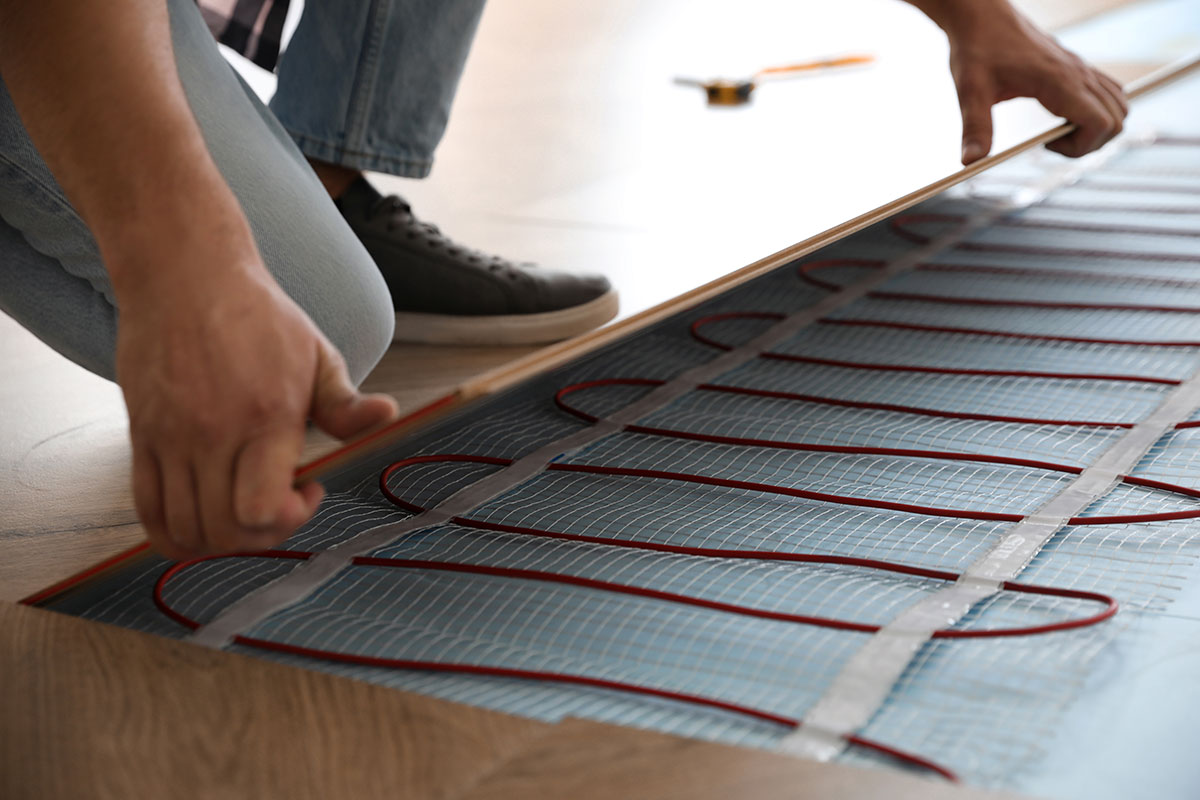 How do underfloor heating systems work?
Underfloor heating systems work by having mats or pipes under the floor of your home. While each of the two systems mentioned above use different sources to generate heat, they can both work perfectly well in the majority of homes, reducing one's reliance on radiators or open fires by distributing heat evenly across the floor of your home. 
With hydronic underfloor heating, the water in pipes are heated, delivering a radiant heat – much more than radiators which have around 70% convection heat. This means the thermostat in each room can be set to 2 degrees below a room heated by radiators.
Why should you consider underfloor heating systems?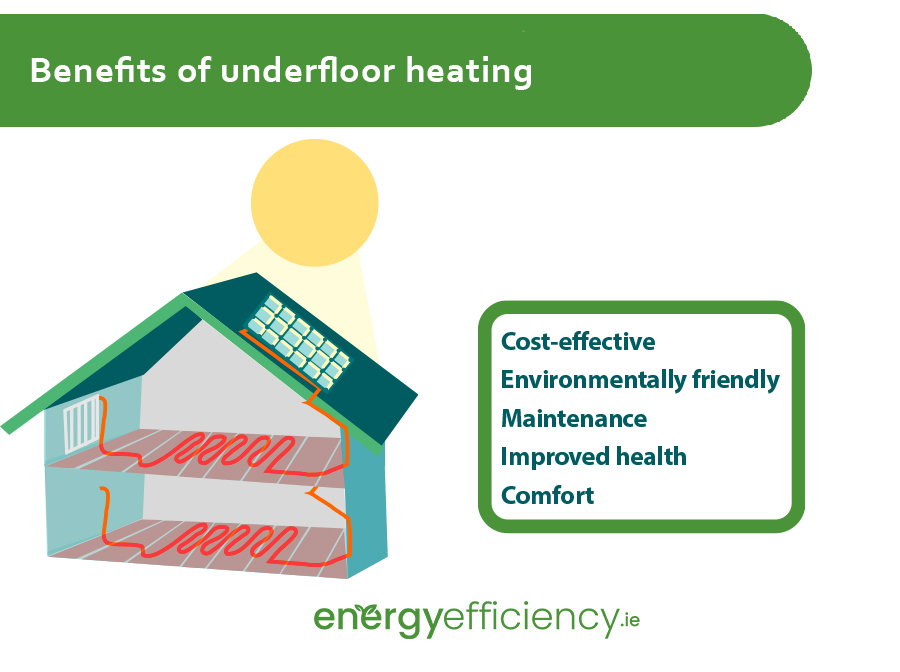 Solar Underfloor Heating Installation Costs
The cost of solar underfloor heating depends on a number of factors, including which system you opt for and the amount of floor space that you have. 
The cost of solar underfloor heating will be higher than regular systems, due to the fact that solar panels will also need to be installed. If solar panels are already installed, this will drastically reduce the overall costs. 
In any event, while the initial costs may seem high, the benefits are endless, and the payback period for PV solar panels is around 7 years on average, giving you free electricity for around two more decades for free. 
As underfloor heating is incredibly energy efficient, the savings will be even more. Underfloor heating costs will depend on the installer and the materials they use, so the best method of gauging the price is to receive a quote from a reputable installer.
Get a quote for solar underfloor heating today
If you are thinking about getting solar underfloor heating in your home, take a moment to fill out  our free questionnaire, which will provide you with a free quote from a trusted solar underfloor heating provider in your area.